Regular price
Sale price
$2.00 USD
Unit price
per
Sale
Sold out
Xin chao (hallo), wir sind die Magic-Maker in Vietnam, die deine Taschen und Rucksäcke herstellen! Wir sind ein Team von etwas mehr als 40 Mitarbeitern, unsere Werkstatt befindet sich in Ho-Chi-Minh-Stadt und wir sind stolz darauf, seit 2010 Ethnotek-Taschen in Handarbeit herzustellen.

Eure Bestellungen haben uns im Laufe der Jahre sehr geholfen, und mit eurem Trinkgeld wird es für uns jetzt noch etwas komfortabler. Das Trinkgeld wird zu gleichen Teilen unter unserem Team aufgeteilt, vielen Dank!

Share
View full details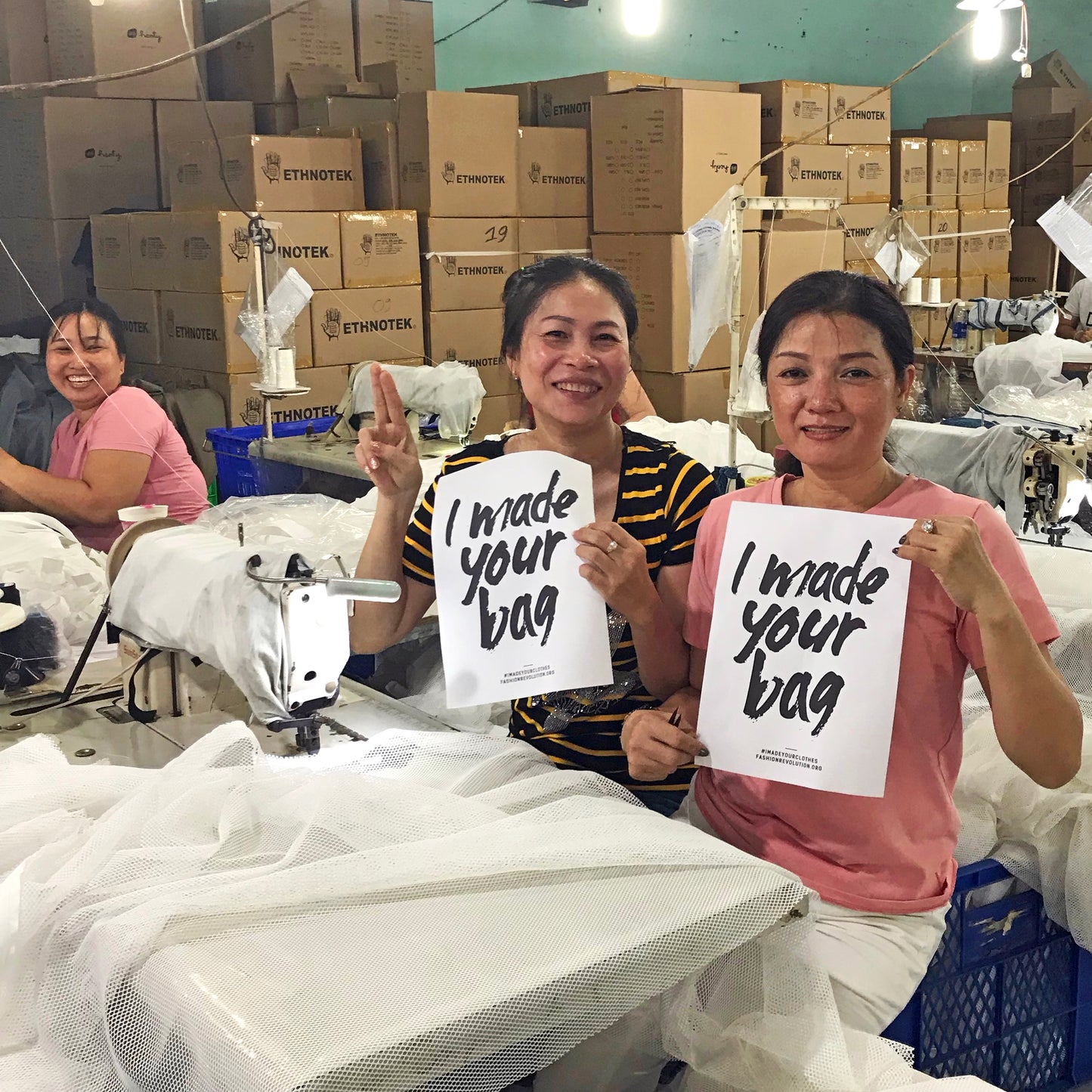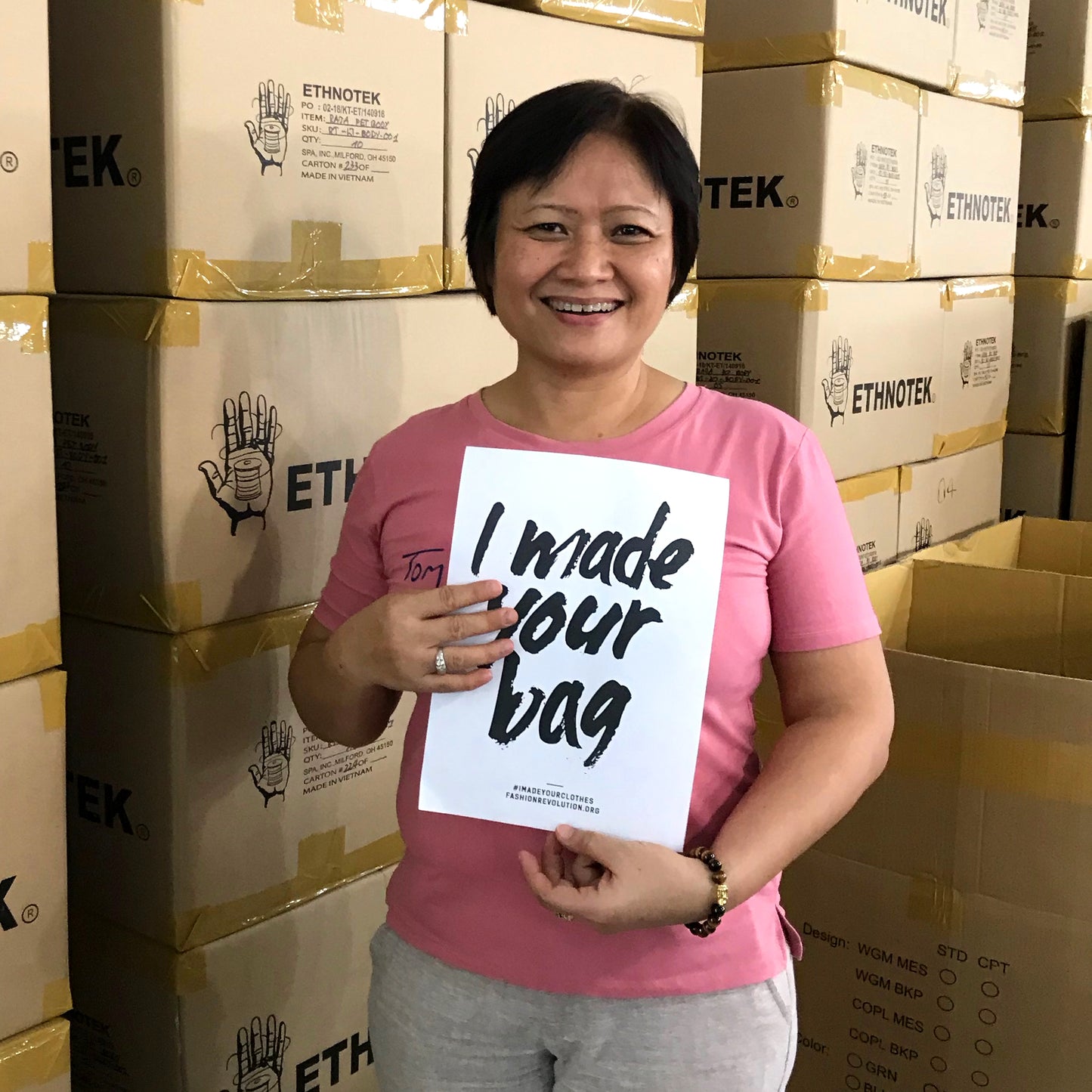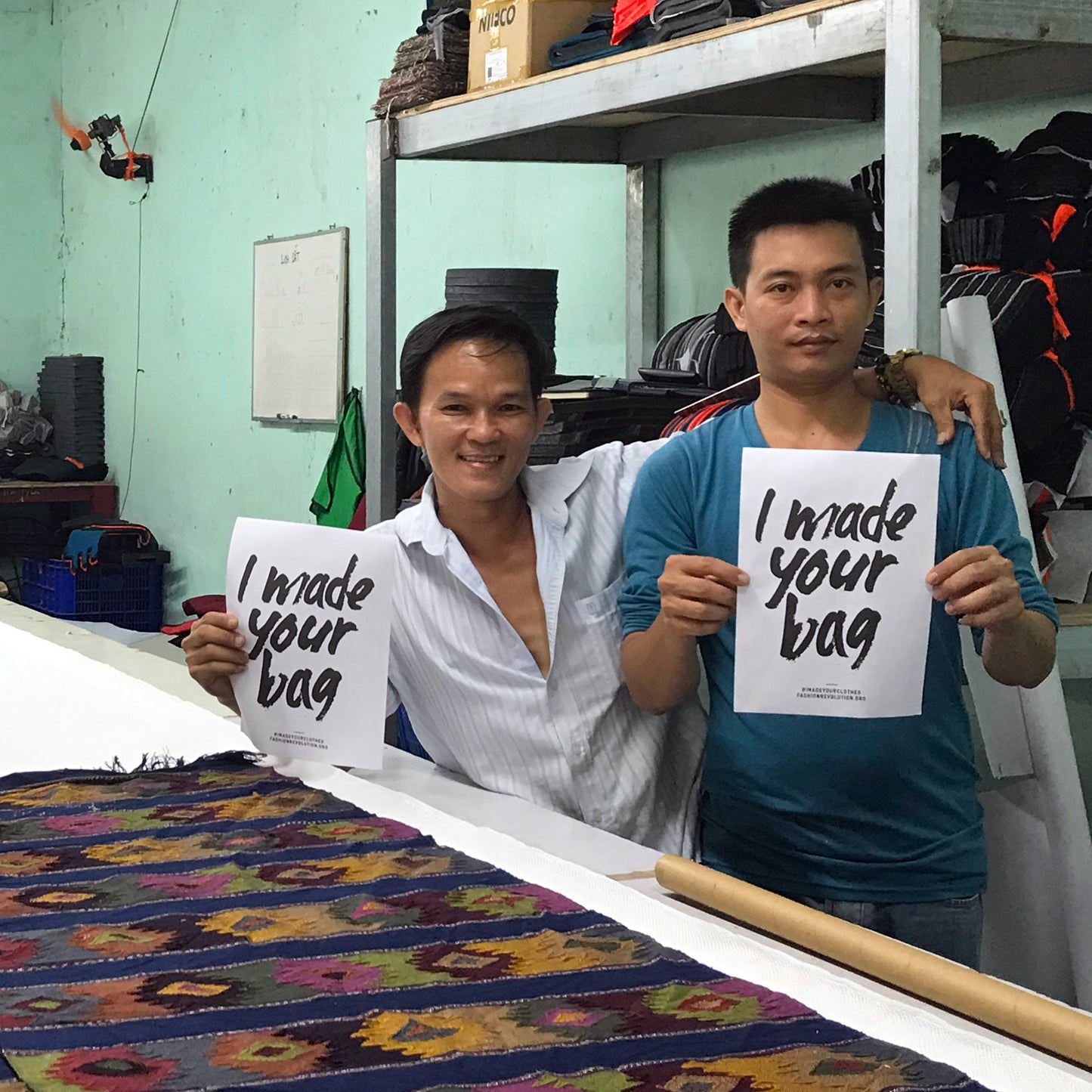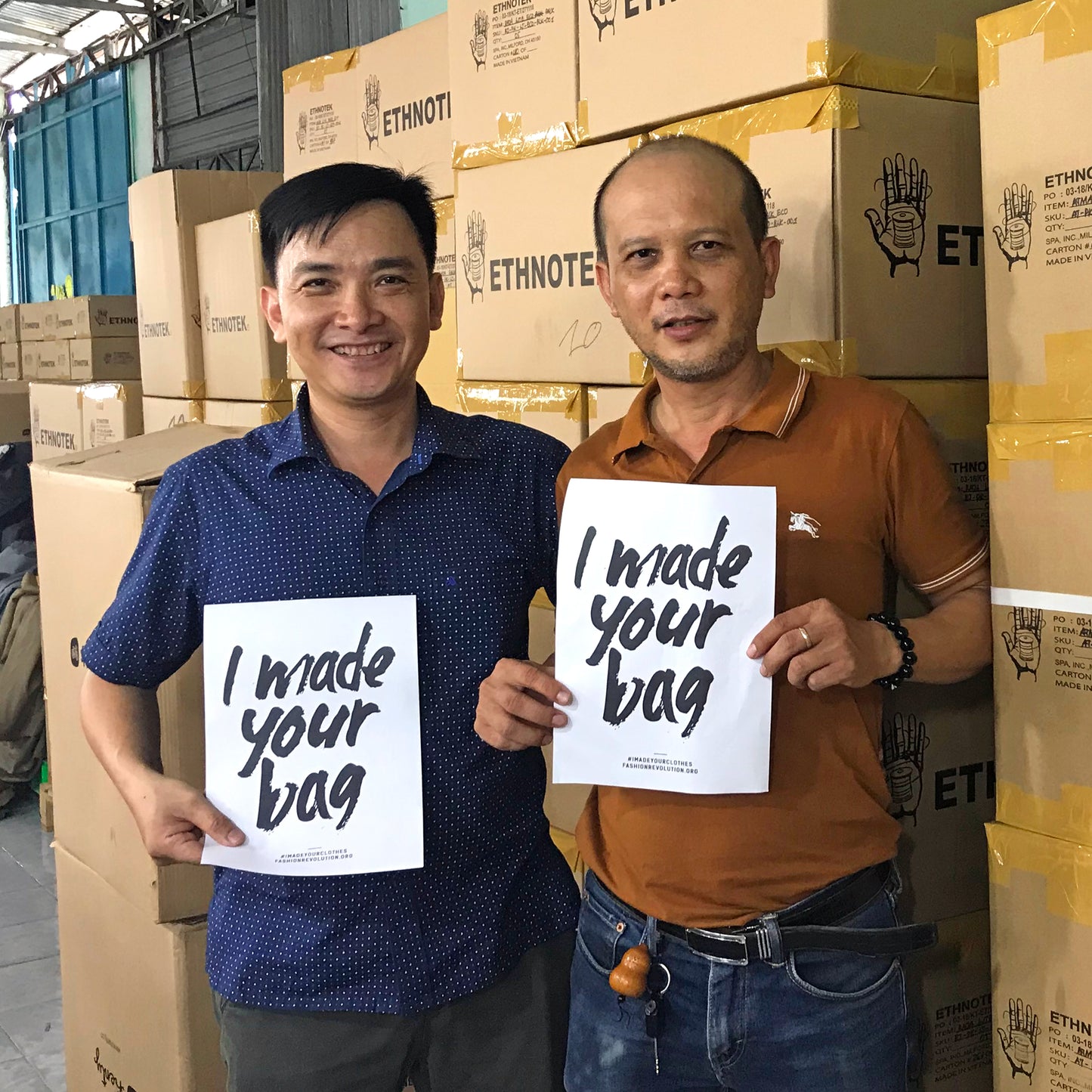 Meet the Artisans
Inrahani
Hello, I'm Inrahani and my woven fabric is built into this bag. Our textiles are made on a bamboo frame loom in the Phan Rang Tap Chap village in central Vietnam. Our community are proud descendants of the Champa Kingdom and are grateful for your support.
Meet the Artisans
Charles Acquah
Hi, I'm Charles Acquah, I'm from the Somanya village in Ghana and have a workshop in Accra where I make all of Ethnotek's batik fabrics with my son Nathaniel. Our motif designs are inspired by traditional Adinkra symbols. We hope you love our textile art.
Meet the Artisans
Agripina
Nice to meet you, I'm Agripina! We make textiles with Ethnotek using a process called 'jaspe'. The raw warp yarn is tied and dyed in sections, then spooled onto bobbins, which feed the treadle loom to complete the textiles. All weaving at our workshop is done at my home in Paxtoca, Guatemala with my husband Santos, our sons, and their friends. Muchas gracias!
Meet the Artisans
Lidia, Blanca and Alida
Hola, we are Lidia, Blanca and Alida and we are the creators of the extra weft woven Mayan Star textile featured in this Ethnotek bag. Our weaving workshop is in Comalapa, Guatemala and we create a maximum amount of 20 meters of fabric per month because these designs are so complicated and time-consuming. We are one of the only communities in Guatemala still weaving this motif and are thankful for your support in helping us keep it alive and teach our to younger weavers to carry it on.
Meet the Artisans
Shamji
Hello, I'm Shamji and I am Ethnotek's first artisan and have been working with the team since 2010. Our process is called pit loom weaving and our motifs are several generations old. My family and I are community leaders of the Vankar people. Weaving textiles is our main identity and my mission is to teach the next generation of artisans so we can preserve our tradition through them. We're proud to receive your support and to see our fabrics on bags & travelers around the world. Come visit us someday in Bhujodi, India, we'd like to meet you!
Meet the Artisans
The Rabari
Hello, we're the Rabari tribe, a nomadic community in Gujarat, India, near the border of Pakistan. Our textile process is called appliqué embroidery and is our main form of artistic expression. We hope you love it, thanks for the support!
Meet the Artisans
Sri and Yatmi
Monggo (whats-up), we're Sri and Yatmi and we make Ethnotek's batik fabrics in collaboration with the workshop owner Iwan. Iwan is 5th generation Batik maker and is dedicated to carrying his family's tradition. We have a special low water wastage process by hand painting the dye on to the fabrics after our friend Harjono stamps them with wax.
Meet the Artisans
George Ameyaw
Kente weaving has been in George Ameyaw's family for 5 generations and his team of amazing artisans are comprised of Felix Boakye, James Atagbolo and Willliam Agbo. Their workshop is in Accra Ghana and their technique has it's traditional roots that date back to the 17th century from the Ashanti, Akan and Ewe tribes.
Meet the Artisans
Che
Hi, I'm Che and I'm part of a group of 96 artisans in the northern highlands of Vietnam who make hand-embroidered textiles in collaboration with Ethnotek. Hmong women make only 2 tribal skirts per year and it's our favorite hobby that we do during breaks from our agricultural work. This craft is our heritage that we're proud to protect and is fun to make because we often socialize, laugh and joke with each other while creating it.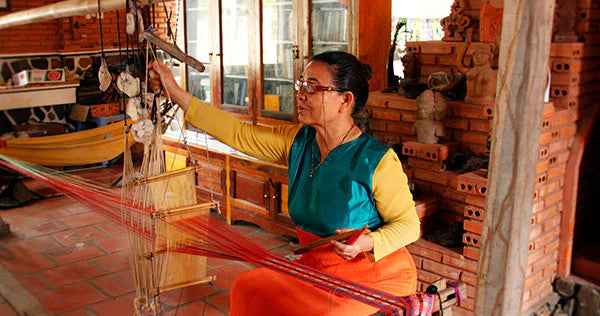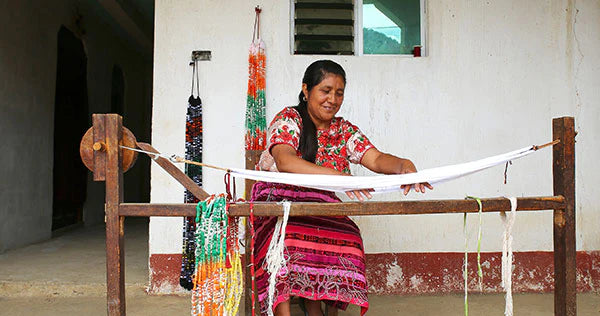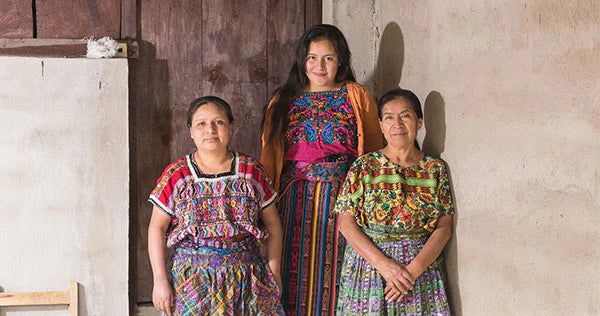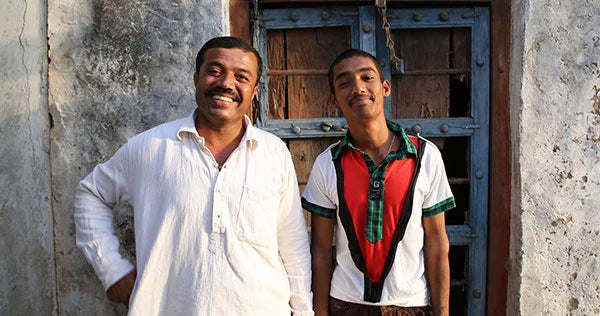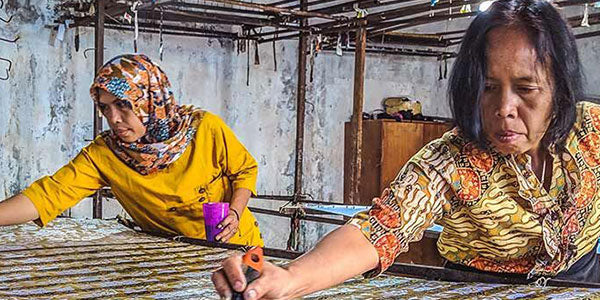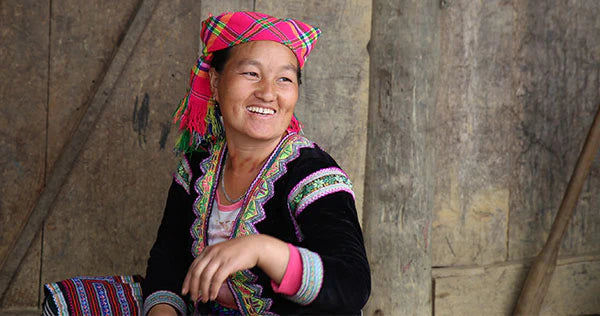 Care and spare parts
In order for you to enjoy your Ethnotek bag for a long time, proper care and cleaning is important.
The fabrics of the artisans will change over time, just as, for example, a pair of jeans changes.
To protect the fabric and the color fastness of the handmade fabrics we recommend using a rain cover in bad weather.
If the bag is dirty inside or outside, we recommend washing it by hand with cold water and a little detergent. In case of heavy soiling, please use a brush with nylon bristles and brush the dirt out of the fabric with it. More care tips.
Ethnotek offers a worldwide and long manufacturer's warranty for bags and backpacks that far exceeds the industry standard. In addition, we offer an affordable repair service in Germany and can usually provide you with all important spare parts free of charge.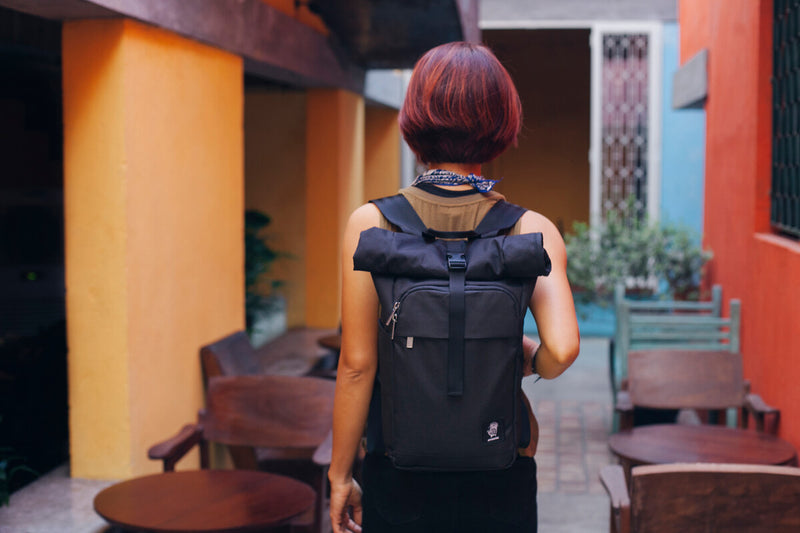 Shipping and return
We ship all packages CO2 neutral with DHL GoGreen or DPD climate neutral.
The unbleached boxes are made from recycled material.
Delivery within Germany and to the following regions will be made at these costs and delivery conditions:
- Germany: 5, - € from an order value of 60, - € free shipping.
- EU foreign countries: 10, - € from an order value of 120, - € free shipping.
- Switzerland: 10,- CHF, free shipping from an order value of 150 CHF
We take over the return costs. Contact our Customer Service to receive a free return label.
Production in Vietnam
All Ethnotek bags are proudly and responsibly made in Vietnam. Our workshop is based in Ho Chi Minh City, Vietnam and is powered by thirty awesome and highly skilled humans. We do all design, prototyping, material management, molding, stamping, cutting, sewing and fulfillment under one roof.
Our corporate values